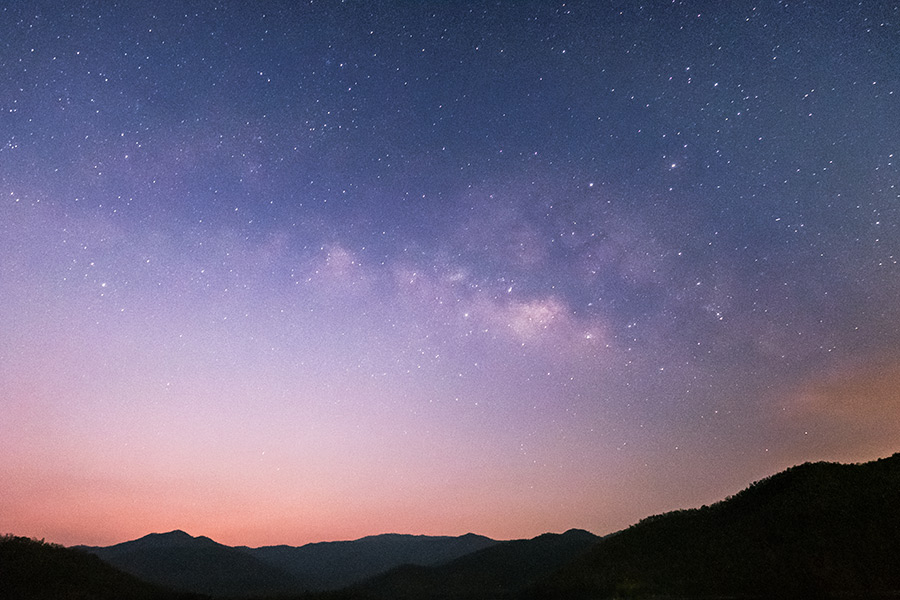 Stunning starry skies
At Le Domaine Vert you can experience the most amazing starry skies, nature, views and sensory experiences. The facilities are basic and as a whole offer an extraordinarily exclusive experience. Enjoy the peace, nature, stillness, loving, in flow and hospitable. We go for a wonderful experience, so that you will love to come back or tell your friends and family about us.
Reception
Upon arrival, you will receive a warm welcome at the reception desk in the barn. You will be given a personal tour to quickly find your way around your accommodation and the estate. In the reception you can make small purchases of varying offerings, especially geared to the abundance that Mother Nature provides: vegetables, fruits, jams and herbs. During the high season we get fresh bread and croissants every morning, which you can order the day before. The next morning it will be ready in the bodega.
Sometimes you will find some extra products for personal care or food, but do not expect a mini supermarket. You will mainly provide for your own needs.
Sanitary
Do you want to shower socially, spread out over the day so that our boiler can provide hot water all the time? We filter the waste water in a biological way, it is returned to the site. Therefore, chemical toilets can only be emptied when biodegradable means are used (otherwise it can be done at a supermarket 10 minutes away).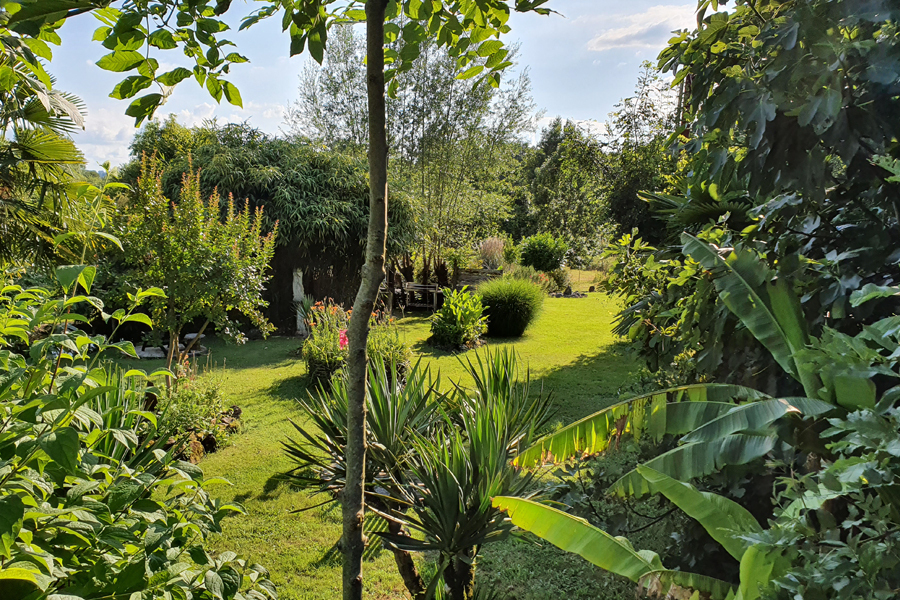 Gardens
On our property there is a large organic vegetable garden, a herb garden and fruit orchard. Depending on the season and the yield, we sell these at the reception. At times when Mother Nature is sharing her fruits abundantly, we give our guests the opportunity to help out. It is not the intention that you provide yourself from the gardens.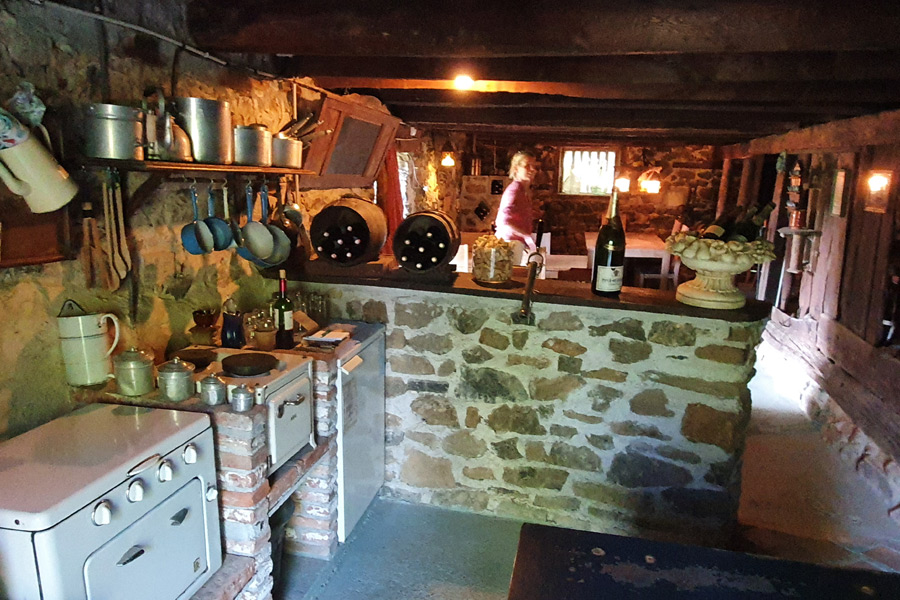 Bodega
This partially covered space is set up as a common area. You can come and play a game, have a nice chat or just be in a different environment to connect with other guests or our team. You can grab a glass of wine, beer, water or juice yourself from the refrigerator and count it on your card.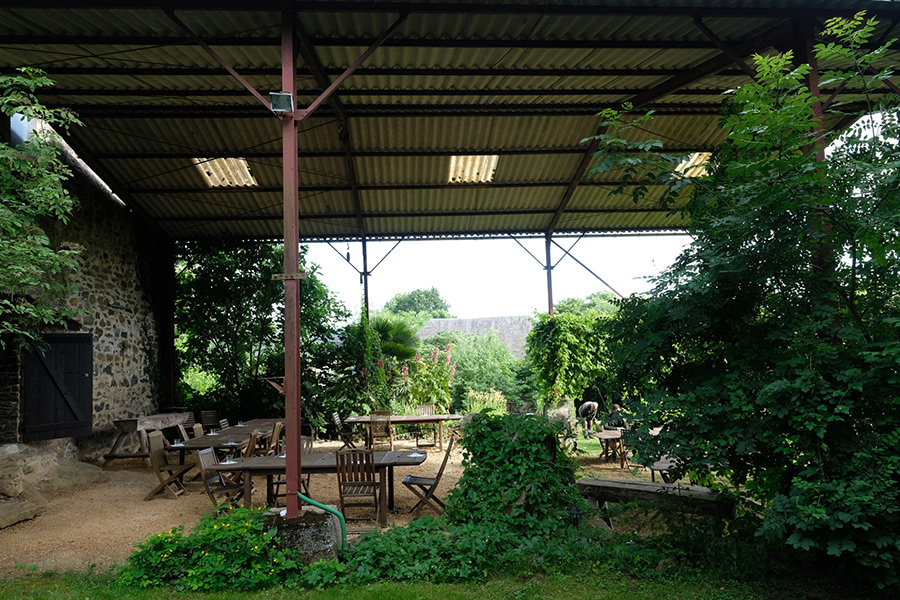 Hangar
Next to the Bodega you will find a large covered outdoor area to relax. You can take your drink from the bodega here. You have a nice view of the courtyard garden with its ducks, chickens and peacocks. The team regularly fires up the big campfire here for extra fun. Come and join us and enjoy beautiful cozy French evenings!
Food
You are particularly self-sufficient with food. But we love to cook!
When delicious fresh vegetables have been harvested in the garden, we invite you to join us for a nice meal 2 to 3 times a week. (€ 33,- pp incl. wine, € 29,- without wine)
Our food is largely vegetarian, but meat and fish lovers also get their money's worth! You can register the same day before 12 noon.
We eat dinner together in the bodega and/or hangar. In high season you can order bread before 6 pm for the next day.
Jue de boules
Next to the hangar is a jue de boules court that you are free to use. Please bring your own game set.
Sauna and hottub
On the property is a wood-fired sauna and hopefully soon a hot tub. You can use these after registration. You pay for the wood and use.
Other activities.
You can participate in pop-up activities, which will be announced shortly beforehand and which you can join for a small fee. You can think of a yoga class, group hike, massage, campfire evening with music and singing, breathing workshop, creative workshop (painting etc.), tour of beautiful towns and the like.
You can make an appointment at a time of your choice. You can think of a massage, walking coaching, Le Domaine Vert herbs workshop, energetic treatment, listening hour, story telling hour etc.
Kids
Because of the nature of the estate, we mainly attract guests who come for peace, nature, to unload and recharge. Le Domaine Vert is not a typical children's / family campground. There is no animation team, swimming pool or playground. However, children are very welcome. Nature is your child's largest playground and we encourage them to explore it with their senses. When children are present, we like to organize children's activities in coordination with the family.